Rains, Humidity And Orchids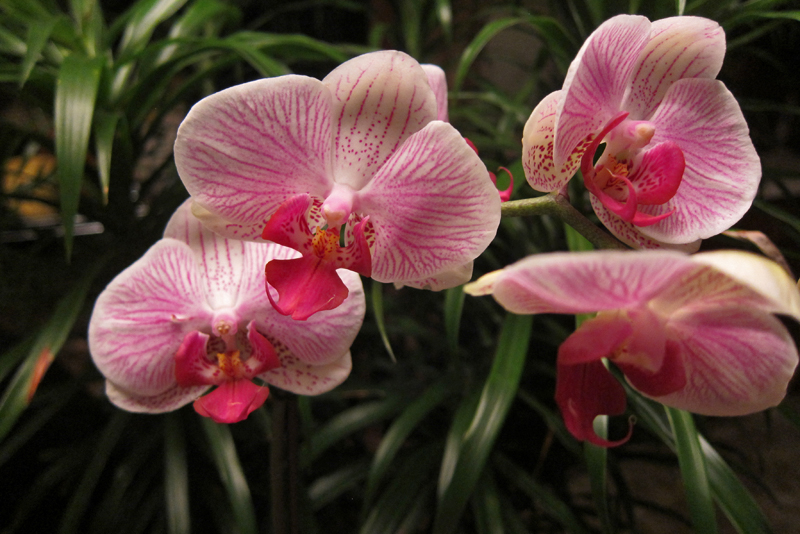 We know for the fact that orchids love moisture and thrive when humidity is high. The ideal conditions for best orchid growth are partial or indirect sunlight with just one or two hours of direct sunlight (apart from those orchids that grow meadows or sunny slopes), the temperature range between 18 - 30ᵒ Celsius and humidity levels between 60 to 80 percent. Watering needs are decided by the state of the potting mix as well as by the humidity levels. It should not be dripping wet or bone dry, the best state of the mix is just a notch above bone dry if the humidity is at maximum levels.

But what to do when orchids start dying despite high humidity and frequent rains? Normally, it does not rain much here. It is either in July or August when it rains heavily, before and after that rains are light and infrequent. This year, however, it started raining from July and continued till September, with rainy spells continuing for two to three days. Apart from this, the sky remained overcast for days.

As a consequence there was a continuous period of high humidity of three months (we are still having overcast days!). During this period a number of my plants have died and most of these had root rot. A friend informed me that her two-year-old orchids that were thriving earlier have also died. This had me thinking as to why did the orchids die? What did actually kill them, they are supposed to love water?

There could be many possible causes:

• The orchids had adjusted to the local dry weather and were unable to cope with the onslaught of heavy rains accompanied by high humidity. So being used to the much lesser amount of water, the plants probably died because of too much water. Further, it is essential for the orchids to have a spell of dry period every day. One indication that the plant is unable to handle too much water is 'root rot'.

• The problem was compounded by a lack of an adequate number of sunny days. It should be noted that a combination of high humidity and high temperatures can be harmful to the plants. The rate of water evaporation decreases despite high temperatures. This affects the plants as it is unable to transpire, which causes accumulation of oxygen and reduction of carbon dioxide inside the plant. So slowed transpiration rate could have not only led to rotting, but also affected the absorption of nutrients from the soil.

• If heavy rain fell directly on to the pots/containers, then it could have exposed and damaged the roots.

• Another point to note is that high humidity supports the growth of fungal, bacterial and other pests such as aphids, mealy bugs, whitefly etc., so the plants were also susceptible to pests attack.

Saving your orchids when freak weather systems occur:

• Shift the orchids inside to provide protection.
• Watering frequency should be maintained according to the need of the orchid. The potting medium should not remain wet for long and the medium should have a dry spell in between watering.
• Maintaining good ventilation is important to deter pest infestations. Clean all puddles of water around the containers after watering. Segregate diseased or pest-infested orchids quickly.

Hoping this will help in future, you welcome to put in your thoughts too in the Orchid Forum. The weather is changing and the festive season is upon us so please take care that your orchids beforehand.
You Should Also Read:
Orchids and Humidity
Pest Control in Orchids
Shifting Orchids Inside

Related Articles
Editor's Picks Articles
Top Ten Articles
Previous Features
Site Map





Content copyright © 2022 by Anu Dharmani. All rights reserved.
This content was written by Anu Dharmani. If you wish to use this content in any manner, you need written permission. Contact Anu Dharmani for details.