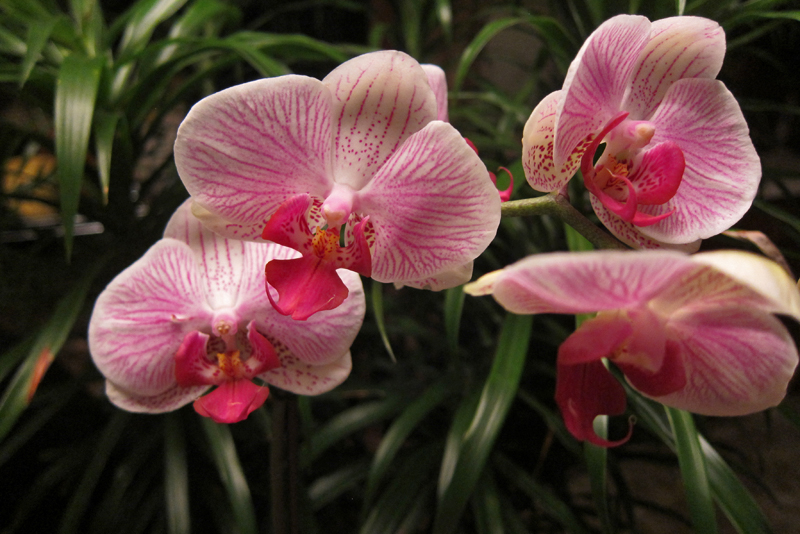 Links to articles and information for beginning orchid growers.
2006 New Year's Resolutions

Orchid growing resolutions for 2006 for all of us to think about.
Aphid Repelling Plants That Can Grow With Orchids

Pestered by pests like aphids, why don't you try growing some plants ..... aphid repelling plants.
Art Shade Orchids

Art shade orchids are those specially bred for colors in yellow, pink, orange and many cominations.
Beginner Orchid Supplies

What supplies does a new grower need keep orchids happy and growing?
Beginner Orchids

A guide to some of the easiest and most popular orchids for beginning orchid enthuiasts.
Build a Species Collection

Some thoughts and recommendations on expanding your collection to include species orchids.
Buy Flowering Sized Orchids

If you are a fairly new grower, consider paying more for blooming size plants rather than the less expensive seedlings or near blooming size orchids.
Buying Orchids on the Internet

Buying orchids on the internet can give you access to some of the best products available.
Caring for Orchids in Winter

Orchids can not tolerate low temperatures. They need extra care to survive in winters. Learn how to help your orchids survive this season.
Crows - Friends or Foes of Orchids

Are crows foes or friends of orchids? I found them to be the pests of worst kind, being the most difficult to get rid off!
Edible Orchids

Not just flowers, but orchids are also used as food. Read on to know more.
Exhibit Your Orchids in the Home

What should you do to show off your blooming orchids in the home?
Exhibiting Your Orchids

Common sense advice to those who are interested in showing off their plants at a local show. Where to start and how to set up an exhibit.
Exhibiting Your Orchids -- Before the Show

Here are some thoughts on what needs to be decided and done prior to taking your orchids to a show.
Exhibiting Your Orchids -- Preparation

Here´s what you need to know about getting your plants ready for exhibiting either at your orchid society or at an orchid show. It´s a worthwhile experience!
Exhibiting Your Plants

The first step in learning to show your plants is to start taking them to an orchid society meeting plant table.
Expand Your Orchid Growing Space

Are you running out of space for your orchids? Here are some suggestions to help you out.
Facts about Orchids

Orchids, would you like to know what exactly are these plants? Where are they placed in the plant kingdom? What are their morphological features? If yes, then go through the article to jack up your knowledge on basic facts about orchids.
Falling Leaves – Dendrobiums

Some Dendrobiums lose their leaves in the fall. Figure out if that is why it's happening to you.
Find an Orchid Buddy

An orchid buddy is a great way to enjoy your hobby more and to learn about growing.
Fragrant Orchids

Some orchids produce wonderful fragrances, though obnoxious smelling orchids also exist. I have put together a list of some orchids which produce fragrances.
Getting Ready for an Ochid Show

If you plan to try putting a plant in a spring orchid show, here´s how to start. It´s not too early.
Getting Started with Orchids

Read my article about choosing your first orchid and how to keep it growing.
Go to an American Orchid Society Orchid Show

Go to a local orchid show to meet local nursery owners and see beautiful flowering plants.
Growing Orchids for Beginners

So you want to grow an orchid. Here are some no-nonsense thoughts on what you should really do with that first orchid.
How Does Your Orchid Pollinate?

What happens after flowers are formed? Pollination in orchids is as fascinating as it is important for their survival.
How to Choose a Healthy Orchid

Here are some things that you can look for in a plant to help you pick a good healthy orchid.
How to Choose an Orchid

Choose an orchid which will grow under the conditions you can give it so that both you and the plant are happy.
How to Extract Fragrance from Orchid Flowers

Orchids produce some very wonderful scents. Learn how to remove these scents from the orchids flowers to make your home more fragrant.
Hurricane Preparedness for Your Orchids

Here are some thoughts on what to do for your orchids in the face of a hurricane.
Hygrometers, Thermometers and Light Meters

The most important tools you can have to grow orchids well.
ICU for Your Orchids

Here is an idea to try to save that favorite orchid that just seems to be dying no matter what you´ve done to save it.
Ideal Plants to Grow

Orchids are ideal plants to grow for hobbyists and commercial growers, read on to know more on this.
Identifying Orchids

Wild orchids are found growing every where. How do you identify whether the plant in your backyard or on your trekking route is an orchid? Read this article to find out how to identify a wild orchid.
Join an Orchid of the Month Club

Every beginner should consider seriously joining an "Orchid of the Month" club in order to have blooming orchids all year long.
Joining an Orchid Society

Your orchids are facing a pest attack and the nursery from where you bought your orchid does not help you much. What would you do now?
Leafless Orchids

Did you know that some orchids grow without leaves? Their roots contain the cells which are normally in leaves to photosynthesize.
Look up the Registered Name of your Orchid

How to look up the registered name or the parents of your hybrid orchid. This can be done easily online if you know how!
Make Plans to Visit an Orchid Show

As you think about the coming year, make plans to visit an orchid show near you!
Medicinal Uses of Orchids

Apart from beauty, orchids have number of other uses. Most of these uses are known to the local people. Fortunately, this knowledge is now being documented. Here is a list of some orchids which are used as medicine and in some cases as food.
Moving Your Orchids Outdoors

Do you have a place outdoors that you can put your orchids so they can enjoy a vacation?
Neem Oil Systemic for Orchids

Neem oil is one of the organic systemics that orchid growers use to keep away any kind of sucking insect.
Orchid Alphabet Soup

Confused by all those letters after the names on the labels of your orchids? Check this page for a description of the most common American Orchid Society awards.
Orchid Ecology

You are planning to grow orchids or you already have an orchid in possession: if you want to be a successful grower, first try to understand their natural habitat and have a peep into the natural ecological conditions of orchids.
Orchid Flowering in Nature

Have you seen orchids growing in wild? Flowering orchids in the tropical forests put up a splash of colour, especially in the dry winter months.
Orchid Growing Regions Around the World

Where do orchid come from? What is the location of their preferred habitats and regions, also called the orchid hot spots? Do they grow every where or are they restricted to particular areas?
Orchid Life Cycle

Here are some fascinating facts about orchids and how they grow.
Orchid Name Tags

What does the information on a name tag mean? Why is it important? Learn how to interpret and understand what is on your orchid's tag.
Orchid Pollinators

Orchid pollination is a fascinating subject, you will be amazed at some of the species which pollinate the orchids.
Orchids - A Brief Introduction

Orchids are exotic, beautiful and mysterious. But do you really know them? Let me introduce you to the world of Orchids. So that you develop an acquaintance with them first and then go on to become life long friends.
Orchids And Covid

Covid or no covid. Here's what orchids teach us how to adapt when survival gets tough.
Orchids and Humidity

The lesson I learnt on the importance of high humidity to orchids.
Orchids Need To be Labelled

Labelling your orchids is very important. It will help in how to grow the orchid properly. Labelled orchids can be left with specific care instructions with friends when going on vacations.
Orchids with Attractive Foliage

Orchids are known for their flowers but do you know that even their foliage is quite attractive. Some of these orchids have nicely arranged leaves on the stem as well as beautiful leaves.
Paphiopedilum Orchids

Paphiopedilums are one of the best orchids to grow indoors since their light requirements are very well suited to most homes.
Plan to Bring in Your Orchids

Bringing in your orchids in the fall requires planning to make it easier. Here´s what you need to do.
Saprophytic Orchids

Saprophytic orchids the least talked about orchids. Though some of them produce beautiful flowers, but as they are only visible during flowering season growers find them less attractive.
Segregate Those New Orchids

One of the most important pieces of advice I have ever been given is to segregate new orchids until you are sure that they do not have unwelcome pests.
Similar Looking Orchids

Many orchids look very similar to each other, not only is their vegetative structure similar but their flowers also look quite similar to each other. How do you identify these? One such group is found in Aerides.
Size Descriptions in Orchids

What do the size descriptions on orchids mean?
So you want to try growing an orchid!!

Here´s some encouraging information if you´ve always wanted to try growing an orchid but were afraid to try.
Some Orchids Might Survive Outside In Winter

There are orchids that could survive even in snow. Read the article and find out which one of your orchid can be left out in winter.
Ten Unique And Mysterious Orchids

A list of ten orchids from different corners of the world which show unique combinations of colour and variations in the structure in their flowers.
Terrestrial Orchids

Terrestrial orchids have the widest spread distribution of all the orchids although they represent only about 25% of the total species.
The Way Our Orchids Get Their Names

Orchids have some of the very big names. How do these end up having such unpronounceable names? There are rules governing the naming of the orchids. I have put forth some of the basic ones to make it a little clearer.
Tying and Supporting Your Orchids

In order to display your orchids to their best advantage it´s important to know how to support and tie them properly.
Use Orchid Map™ to Find Orchids

Orchid Map™ is a new internet website which allows societies and vendors to enter information. It provides a great place to find orchid resources near you.
Using Orchids and Their Flowers for Decorating

In the crowd of all the flowers blooming in spring, your orchid flowers are going to shine like the moon in a sky full stars. Check out some of my ideas on decorating using your orchids.
Using Orchids as Medicine

Orchids have been used as a cure for number of ailments by local people and tribals. Checked out how you can also use your orchids as a medicine.
Vacation -- How To Care For Your Orchids

Here are some good suggestions for making sure that your plants will survive in good shape while you are on vacation.
What is an Orchid Addict?

Growing orchids is addictive! See if you qualify as a real OA.
Where, When And What Orchids To Buy

There are a few things you need know before buying orchids.
Wild Orchids - Not for Orchid Growers

Before buying orchids, please make sure that they have not been brought directly from a forest. Buy only nursery grown orchids, not only to save our natural wealth but also to protect your own plants from unknown wild diseases and pests.
Winter Orchid Dreaming

Now is the time to look at those catalogs and decide what you want to buy in the coming year.
Editor's Picks Articles
Top Ten Articles
Previous Features
Site Map
Content copyright © 2018 by . All rights reserved.
This content was written by . If you wish to use this content in any manner, you need written permission.
Contact Anu Dharmani for details.