Getting Started With Orchids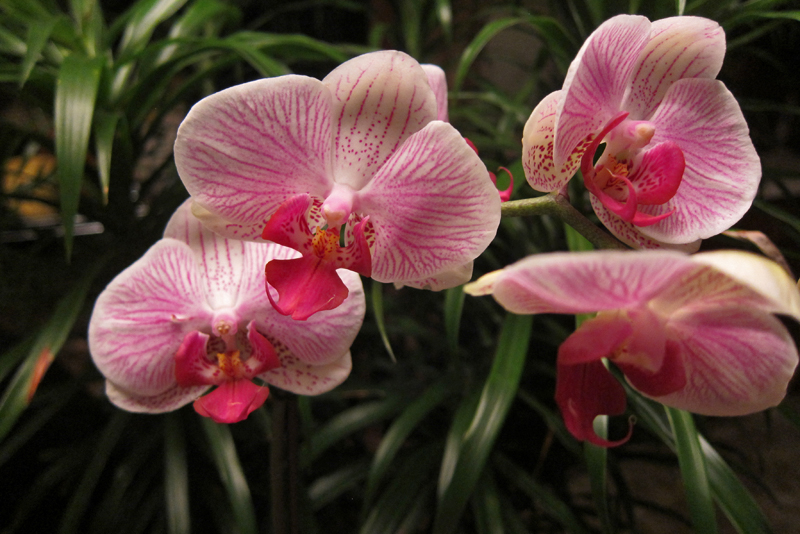 There are many orchids that are suitable for the beginning hobbyist. Two of my favorites are the Phalaenopsis and Cymbidium. Both are easily purchased at a variety of sources—everywhere from your local garden center to the neighborhood grocery store's floral department. They have simple lighting and culture needs and produce long lasting floral displays.
In their natural habitat, Phalaenopsis grow in jungle warmth and humidity with roots exposed to collect natural rainwater. In your home, these orchids will do well in a north-facing window. Direct sunlight should be avoided to protect the leaves from burning, but bright light is necessary. Placing the pots on a saucer filled with water and gravel can increase humidity. Water twice a week being careful not to let water collect in the center of the plant. Phalaenopsis will benefit from biweekly feeding with a diluted 30-10-10 fertilizer.
Repotting should be done after the flower spikes die back completely. Replant if roots are showing out the bottom of the pot. If no roots are protruding, then transfer to a new pot every two years.
Cymbidium orchids have some of the most beautiful flowers in all the Orchid family and some of the easiest growing requirements. They can be grown outdoors in most areas as long as they are not left outside when the weather is too cold. In Southern California, cymbidiums can be left outside all year round as long as they receive adequate watering and protection during the hottest summer weather. Watering should be done at least once a week until the weather becomes hot, then apply every two or three days. Feed with a dilute solution of 30-10-10 fertilizer from January to July. From August through December, use low-nitrogen fertilizer such a 0-10-10 diluted to half the strength recommended on the package label.
No matter which orchid you choose as the first, you can be sure that it will not be your last. Relax and enjoy your new hobby.


Book Recommendations for Beginners




Easy Orchids: Simple Secrets for Glorius Gardens-Indoors and Out

Editor's Picks Articles
Top Ten Articles
Previous Features
Site Map





Content copyright © 2023 by Karen Stewart. All rights reserved.
This content was written by Karen Stewart. If you wish to use this content in any manner, you need written permission. Contact Anu Dharmani for details.