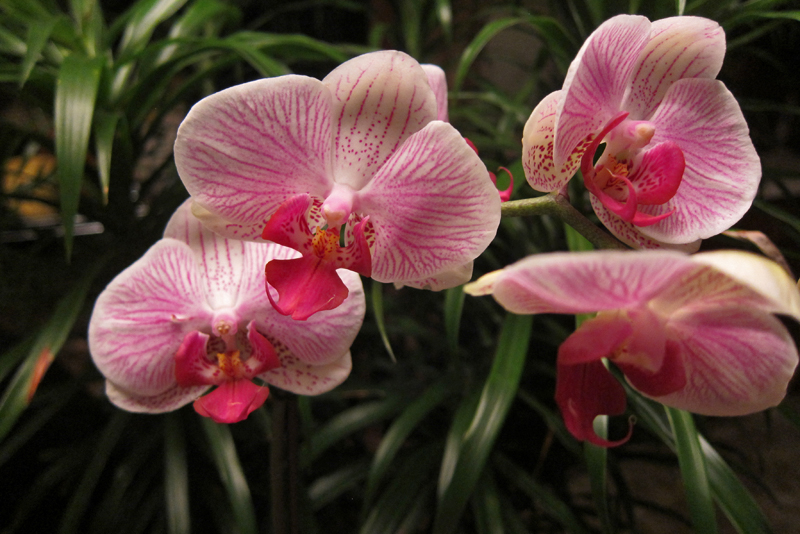 Brief notes on particular orchids; profiling their structure, growth needs etc.
Arundina Graminifolia - The Bamboo Orchid

Arundina graminifolia, an orchid worth growing which flowers through out the year.
Aerides Multiflora - Fox Brush Orchid

Aerides multiflora is an orchid having beautiful and, if you are lucky, fragrant flowers.
African Orchid Species

A list of some of the orchids, epiphytes as well as terrestrials, which are found on the African continent. I have not grown these orchids personally, but I have tried to put together those species which are worth cultivating and would like to grow them myself.
Ascocenda - Orchid Profile

Ascocendas are easy to grow and provide bright colors on an intermediate sized plant.
Dendrobium Farmeri - Farmer's Dendrobium

Dendrobium farmeri has beautiful and sometimes scented flowers. The stems, also called canes, is uniquely shaped.
Dendrobium Moschatum - Musk Scented Dendrobium

Dendrobium moschatum is a tropical orchid. It has beautiful pale coloured flowers which have pouched shaped lip (labellum), but this orchid is not a slipper orchid.
Guarianthe (Cattleya) aurantiaca - Orchid Profile

Guarianthe aurantiaca formerly classified as Cattleya aurantiaca is a wonderful small to medium sized species to grow.
Laelia (Cattleya) tenebrosa – Orchid Profile

This is one of my favorite orchids. It produces a fantastic show if you have the space and high light it loves!
Luisia Trichoriza - Hairy Root Orchid

Luisia trichorhiza is a unique looking epiphytic orchid. It has small but beautiful flowers.
Miltonia/Miltoniopsis -- Orchid Profile

The pansy orchids are one of the surprises of the orchid world. Cool to intermediate growers, these orchids are spectacular!
Miltoniopsis – Orchid Profile

Miltoniopsis, or Pansy Orchid, is one of the most beautiful of orchids. They come in a wide range of colors and are long lasting.
Nobile Dendrobium Hybrids - Orchid Profile

Nobile Dendrobiums are one of the most showy of the family. If you follow the right culture, you will be rewarded by a beautiful plant full of flowers.
Orchid Profile - Jewel Orchids

Jewel orchids are primarily grown for their beautiful velvety foliage which provides year-round enjoyment.
Orchid Profile - Dancing Ladies

Dress up your house with a Dancing Lady Orchid guaranteed to make you smile at the cute form, color, and fragrance of these popular orchids.
Orchid Profile - Dendrobium biggibum
Orchid Profile - Dendrobium kingianum

Here's a great Dendrobium, especially for beginners. It's easy to grow and can tolerate a wide variety of temperatures.
Orchid Profile - Dendrobium, The Spray Orchid

Basic information on growing Dendrobium hybrids.
Orchid Profile - Dendrophylax lindenii

The Ghost Orchid, Dendrophylax lindenii, is blooming again in Florida. Here's information on this fantastic species.
Orchid Profile - Laelia anceps

Laelia anceps is a great orchid for beginners and for those who would like to try growing outside in tropical or semi-tropical areas.
Orchid Profile - Oncidium (Psychopsis) papilio

Oncidium papilio, the butterfly orchid, with its yellow and red color and distinctive shape is one of the most unique orchids around.
Orchid Profile - Paphiopedilum

If you are looking for an orchid that is easy to grow, you can't go wrong with the Paphiopedilum.
Orchid Profile - Prosthechea cochleata

The Clamshell or Cockleshell Orchid is one of the most fun and easy growing orchids around.
Orchid Profile - Reedstem Epidendrum
Orchid Profile - Rhyncholaelia digbyana

Rhyncholaelia digbyana, formerly known as Brassavola digbyana, is one of the most hybridized plants in the orchid world. It is also one of the best species to grow for the hobbyist.
Orchid Profile – Brassocattleya Maikai

Bc. Maikai is one of my favorite compact size Cattleya hybrids. It is an easy grower and flowers well.
Orchid Profile – Cattleya intermedia

Cattleya intermedia is a great species which has been used extensively for hybridizing. It is intermediate in size and will grow in a wide range of temperature conditions.
Orchid Profile – Encyclia

Encyclia orchids are a great genus to try growing. They produce many flowers and are relatively easy to grow for most people.
Orchid Profile – Laelia purpurata

The national flower of Brazil is one of the best known members of the Cattleya Alliance. It is a spectacular bloomer that should be considered by everyone.
Orchid Profile – Phaius tankervilleae

Phaius tankervilleae provides a beautiful show in the spring. This terrestrial is easy to grow and will give you a tropical look even when not in bloom.
Orchid Profile – Spider Orchids

Spider orchids provide a great display in the summer and fall.
Panisea Uniflora

Panisea uniflora is a beautiful miniature orchid with long lasting translucent flowers.
Papilionanthe teres - The Butterfly Orchid

Papilionanthe teres is also known as the 'Butterfly orchid' because of it large and beautiful flowers. These flowers are long lasting and can be used commercially as cut flowers.
Rhynchostylis Retusa - The Foxtail Orchid

Rhynchostylis retusa, also called 'foxtail orchid', has beautiful flowers and is evergreen. It is good plant to grow as houseplant.
Star of Bethlehem Orchid

The Star of Bethlehem orchid, Angraecum sesquipedale, provides a spectacular bloom for the Christmas season.
Vanda Alliance Orchids – Orchid Profile

The Vanda orchids bear among the most spectacular flowers in the family. Some flowers can reach 6 inches in width!
Vanilla is an Orchid

Learn about the plant that makes vanilla beans -- it is an orchid.
Editor's Picks Articles
Top Ten Articles
Previous Features
Site Map
Content copyright © 2018 by . All rights reserved.
This content was written by . If you wish to use this content in any manner, you need written permission.
Contact Anu Dharmani for details.