Hygrometers, Thermometers and Light Meters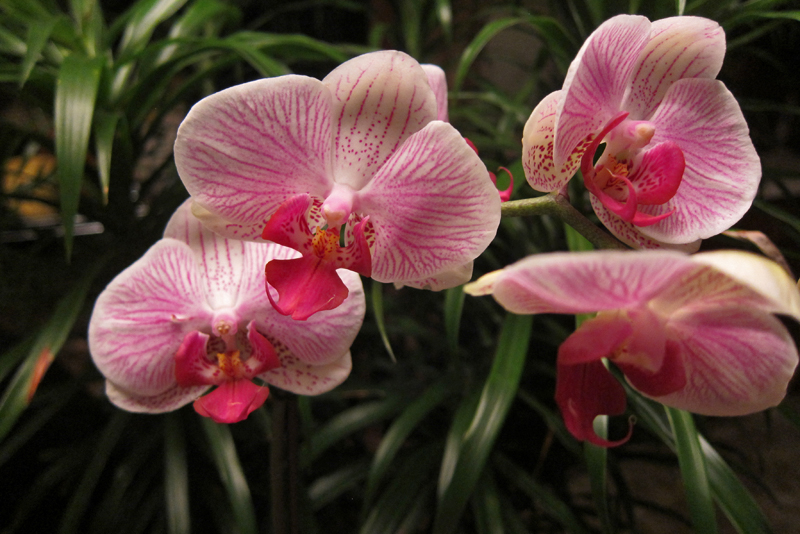 For the serious orchid grower there are three tools you absolutely need:
A thermometer
A hygrometer
A light meter
Combination thermometer/hygrometer instruments are available and a good choice since you can save space by having one instrument. It also is easier to see exactly what's happening in your environment.
Thermometer
The most important tool is a thermometer. I would suggest that you get a minimum/maximum thermometer. This allows you to see both the daytime and night time temperatures. Many orchids require a temperature drop at night in order to efficiently photosynthesize and thus grow their best. A min/max thermometer will tell you that. You will also find that sometimes when you think your environment is within the correct range the temperatures actually are much higher when sun is on your plants.
I happen to like the newer digital thermometers because they are easier to read and it is easier to see actual temperature changes.
Hygrometer
Virtually all orchids need humidity, and most need a lot of humidity in the 60% to 80% range for optimum growth. Unless you live in a jungle this amount of humidity is difficult to attain. And you will never know how close or how far away from it you are unless you can measure it. That is what a Hygrometer does -- it tells you the relative humidity in the area where your orchids are growing. Even in a greenhouse it is difficult to maintain humidity during the day as the temperature rises and the ability of the air to absorb water goes up. When I first got my hygrometer I was amazed at how quickly it can change. In order to grow your plants well, this is an important tool.
I also recommend the digital hygrometers. They are probably not quite as accurate, but are easier to use and view for the amateur grower.
Light Meter
Although it is possible to estimate the amount of light your plants are getting using various other methods, at some point you need to be able to actually determine the number of foot candles. Orchids respond not only to foot candles or strength of light but to how many hours of light of what intensity they receive. One of the most common pieces of advice for beginners who cannot seem to get their orchids to re-bloom is that they probably need to provide more light.
When I got my light meter, I was amazed at how little light my indoor plants were getting and how much my greenhouse plants were.
I found a reliable and inexpensive digital thermometer
CalWest Orchid Supplies
as well as a light meter.
For a combination digital thermometer/hygrometer as well as a light meter, check out
Discount Hydroponics
You Should Also Read:
Orchid Growing Tips #8
Review -- The Potting Workshop
Recommended Orchid Vendors

Related Articles
Editor's Picks Articles
Top Ten Articles
Previous Features
Site Map





Content copyright © 2022 by Susan Taylor. All rights reserved.
This content was written by Susan Taylor. If you wish to use this content in any manner, you need written permission. Contact Anu Dharmani for details.