Orchid Growth Types—Epiphytes, Lithophytes, Terrestrials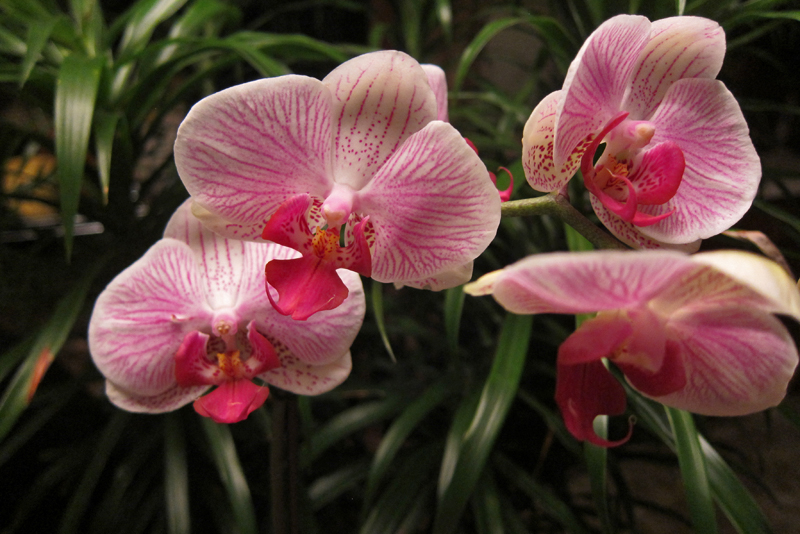 People who are new to orchids sometimes think that orchids are parasitic plants because the pictures of them growing in the wild often show the plants growing in trees. It is this unusual growth habit that separates orchids from most plants generally grown in the home and why it is important to plant in a porous medium and water carefully.


Epiphytes
Actually orchids which grow in trees are Epiphytes. The term comes from the Greek words, ipe-, meaning on and phyte, a plant. Orchids only use the tree or bush they grow on as a place to anchor their roots; all nutrients come from the air or from droppings from higher up in the branches. All their roots are exposed to the air in order to give them more opportunities to absorb water and nutrients.

The majority of orchids grown by man around the world are Epiphytes. Many are grown mounted on wooden rafts such as cork; some are grown in baskets; and some can be grown in pots in an extremely porous mixture of bark, perlite and charcoal. Cattleya, Phalaenopsis and Brassia are common examples of epiphytes.


Lithophytes
It is relatively common for epiphytes to also grow on rocks which provide no nutrients to the plant. There are also many orchids which do not grow on trees at all, but only on specific kinds of rocks. These plants are called Lithophytes. The term comes from the Greek words, litho-, meaning stone and phyte, a plant--thus a plant that lives on stones. Often they are found around the bases of trees or in crevices on rocky hillsides where pieces of debris collect.

Many of these orchids can be grown as epiphytes on cork rafts, on tree fern, or open baskets. An example of a lithophyte is Sophronitis.


Terrestrial
The last major group of orchids are referred to as Terrestrials because they grow in the ground. However, they do not grow in the same soil that most of us understand as potting soil. They grow in humus or leaf litter accumulated on a forest floor. This humus is an extremely open and porous medium which can be duplicated with a fine bark mix in cultivation. Examples of terrestrial orchids are cymbidiums and most of the slipper orchids.
You Should Also Read:
Orchid Growth Types
Phalaenopsis Orchids—A Primer
Orchid Growing Tips #1

Editor's Picks Articles
Top Ten Articles
Previous Features
Site Map





Content copyright © 2022 by Susan Taylor. All rights reserved.
This content was written by Susan Taylor. If you wish to use this content in any manner, you need written permission. Contact Anu Dharmani for details.