The Importance of Humidity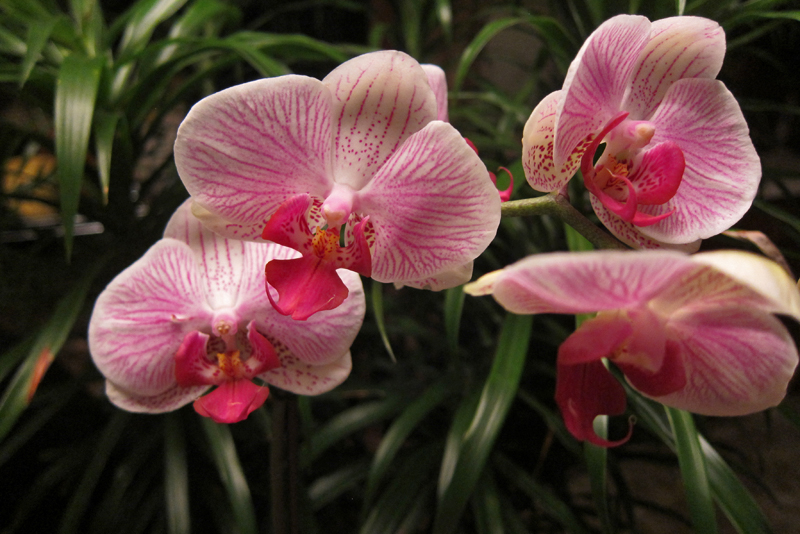 One of the key factors in determining your success with orchids is your ability to supply the plants with the humidity level they need to thrive. Humidity is a measure of moisture in the air around your plants, not in the potting material. As the air temperature rises, the humidity will go down unless you step in and add moisture to the air. Winter forced-air heating will also dry out the air in your growing areas.
A basic piece of equipment for all orchid hobbyists is the hygrometer. These are available in many styles and prices. An inexpensive one from your local garden or home improvement center will probably suffice until you are ready to branch out and start growing orchids that are more sensitive.
There are several ways to increase the humidity near your orchids. The simplest technique is to fill a moderately deep plant saucer with gravel and keep it filled with water. The water level should be well below the top of the gravel, however, so that the roots of your plant are not sitting in the water. Constant moisture at the root level will lead to rotting of the roots.
If you have a wide windowsill you might take advantage of commercially made plastic humidity trays. These reservoirs usually are covered with an open grid of plastic to hold the plants above the water level. Gravel is not needed with this style of tray and they will hold more water than most saucers. Do-it-yourselfers can make their own trays using a variety of plastic containers and the egg-carton grid commonly used for light diffusion. Just keeping the plants grouped together on one of these trays will keep the humidity higher.
Another popular choice is the use of a cool-mist humidifier in the room where your orchids are growing. I will admit to never trying this—our coastal conditions keep us in more humidity than we need and keeping the mold and mildew under control is a constant problem.
Greenhouse suppliers offer specialized fine-mist foggers to increase humidity without getting the plant leaves overly wet. These can be used in an indoor growing room as well.
An important component of increasing the humidity in your growing area is to keep the air around your plants in constant motion. That does not mean having a fan blowing directly on the plants, though. A ceiling fan is an ideal, adjustable source of air movement without creating a draft. If that type of fan is not an option, there are many types of small fans available. Be sure to situate the fan or fans so that the air is moving but not creating a draft or blowing away the humidity that you have worked so hard to create.


Editor's Picks Articles
Top Ten Articles
Previous Features
Site Map





Content copyright © 2018 by Karen Stewart. All rights reserved.
This content was written by Karen Stewart. If you wish to use this content in any manner, you need written permission. Contact Anu Dharmani for details.